NEW SINGLE AND VIDEO! CLICK ON DA PIC TO PLAY
SCROLL DOWN FOR BIO
"There are many artists that can be defined as unique and engaging, but no one can steal the listener's attention, like Blind Uncle Harry. Gifted with incredible songwriting skills, this excellent musician and recording artists stands out thanks to his brilliant compositions, witty sense of humor, and lyrics that carry a strong message."
Today, at Planet Singer, we have the great pleasure of listening to his latest release, "American Way," discovering more about the music of this talented artist. Starting with iconic guitar riffs, the catchy rhythms of "American Way" will conquer music lovers from all around the world. Memorable lyrics and a well-needed dose of positivity make this song a must-have for your playlists! Blind Uncle Harry is back after the brilliant album "The Gospel According to Blind Uncle Harry," releasing another masterpiece that will enrich his unique discography! "American Way" is an exciting and energetic single, and we can't wait for Blind Uncle Harry's next release, and hopefully, a full-length album soon!
"Blind Uncle Harry's unique brand of 'hillbilly hippie shreddin' folk rock' just keeps getting better and better of late. His latest single 'American Way' is an effortless evolution of his folk-infused sound. This single comes off the back of his previous release 'Song For Kori' — a delicate depiction of an unjust and broken system and its harrowing consequences."
"'American Way' feels, well to be frank, truly American. From the slick guitar solo episodes to the classic country drum line, 'American Way' oozes a bluesy country flair. Over a steady soundscape, Blind Uncle Harry laments over the hypocritical and exploitative nature of the American way of life. The thick blanket of sarcasm makes lines such as "don't you worry baby it'll be okay… don't you worry it's the American way" all the more fun to belt along with."
"Blind Uncle Harry has the most astounding ability to pen songs that'll have you moving and shaking whilst questioning the structures that surround you." 
"His discography is by far the most intriguing I've seen in a while. Whilst with 'Song For Kori' you had to listen deeply to hear the societal truths, 'American Way' is an out and proud critique of western ways of the world — by nature it's an absolute anthem. His vocals hold unwavering confidence, slightly edging this song the realms of a call to arms. His refreshingly raw and natural vocal lines allow you to truly take in the message of the track, whilst learning just why Blind Uncle Harry is such a beloved country artist storming the scene right now. With his unique "hippie shreddin' folk-rock" Blind Uncle Harry is making life all the more fun as he scores our daily soundtracks. Even if, as he says in this latest single, that 'living a lie is the price you pay'."
"Not that there is anything wrong with saluting the flag, honouring people's sacrifice, being proud of your country or owning a pick-up truck, a gun and a big hat. But there has to be something to balance that good ole boy, truck driving, leaders of the free world sentiment. Hasn't there?
Well, now there is. Now we have Blind Uncle Harry."
"It's also a refreshing change, especially to find such sentiments being expressed in American music."
"Blind Uncle Harry is a sonic subversive."
Get an invigorating dose of folk-rock music with Blind Uncle Harry as the artist has come up with his latest enjoyable and ebullient track 'American Way'. 
"Music is one of the best mediums of revolution and Blind Uncle Harry is being a part of that musical revolution. This talented music artist is churning out the authentic essence of folk-rock music with his amazing compositions of guitar and indulgent singing style. The latest track 'American Way' is the greatest example of his creative voice against the dystopian reality. The subject matter of the track shows the darker side of society as well as the whole system with an ample amount of ludicrous elements. Harry's raspy voice and eclectic performance help to establish the subject matter along with numerous enjoyable moments."
"The artist could be seen performing with an acoustic guitar, strumming his heart out on the official music video. Playful chords are played on the American flag-drawn guitar while the lyrics pop in the red background. Perfectly justifying the title 'American Way', the music video provides enjoyment, entertainment, and education to all listeners." 
"[Blind Uncle Harry] broke into the scene with his melodic guitar elements, and the result is a magnificent acoustic folk/blues guitar-solo creation that infects the airways with its vast palette of creative harmonies and instrumental narrative. 'American Way" is a terrific introduction to the artist's appealing instrumental work and demonstrates that he is establishing a beautiful route to success with his passionately-led guitar work. Thematically, the song tells the story of how we are conditioned to adhere to societal ideals...it succeeds in leaving a lasting impression and necessitates repeated listens." 
There is so much music out there, but sometimes, the songs with meaning are the ones that really stand out. Such is the case of American Way, a brand new release from Blind Uncle Harry. This exciting new release captures the sound and feel of Americana, and it feels like a perfect representation of what Blind Uncle Harry is all about: a true storyteller with a passion for the classic sounds of America's most iconic music. ...American Way seems like an open display into this world and an invitation for the audience to step in and think a bit deeper about life. You should definitely listen to American Way by Blind Uncle Harry if you enjoy the work of artists such as Johnny Cash, Townes Van Zandt, and Steve Earle, only to mention but a few. 
"Blind Uncle Harry embodies pure Americana with the sharp-tongued "American Way". With humor that touches upon Randy Newman's sly lyricism it underpins the entirety of the work. Over the course of the track he absolutely pours his heart into every moment. Every single thought within the sound feels mulled over, and hits way too close to home. A sense of feeling downtrodden tends to inform much of the piece, for he makes sure that the song keeps on building up to that fantastic finish at the end. "American Way" features Blind Uncle Harry's incredible thoughtfulness for the song sprawls out into the infinite, with a message that lingers in the mind long after the song has ended."
"Here, in a sarcastic and at the same time serious way, the coercion of social structures in America is sworn off. The citizen has little to say in this so-called land of
unlimited possibilities and alleged freedom... Again with fantastic vocals, this Americana Folk Song is a clear rejection of the system of coercion. Musically and compositionally very mature, American Way by Blind Uncle Harry sticks directly in the mind of the listener. Conclusion 8 out of 10: Blind Uncle Harry is convincing every time! For those who are fed up with the subjugation of arrogant authorities, this song is best suited."
"'American Way' is yet another authentic slice of Americana - fitting considering the track's title - from the ever-talented Blind Uncle Harry. This track provides commentary on the titular "American way", dissecting some of its more negative elements; throughout this track, Blind Uncle Harry takes his naturally folksy sound and puts it to use in a traditional sense. Even tackling a serious topic like this one, it is easy to tell just how much fun Blind Uncle Harry has while creating the music he releases and that kind of spirit is undeniably endearing, adding a layer of authenticity to his music that many artists do not have."


"Blind Uncle Harry is back with another single set to tug at our heartstrings this month. 'Song For Kori' strays slightly from the self-defined 'hillbilly hippie shreddin' folk rock' that he is best known for, but is still rooted in the folk foundations at the heart of his sound. This latest single comes off the back of his astonishing album 'The Gospel according To Blind Uncle Harry' from last year. ...If being an artist truly is having something to say and saying it with style, then Blind Uncle Harry, in every dissection of the word, is an artist."
"A fable about the intricate moments of life, the struggles, the trials, the tribulations and the victories. Overall Uncle Harry has proved that simplicity is often the victor when it comes to songs from the heart and all the talking can be done with a voice and lone instrument. A startling offering indeed." 
"Featuring a full, rich lyrical narrative, Song For Kori is music for the open road. The sound has recognizably 1960′s vibe. It reminds me a lot of Lou Reed and the Velvet Underground. ...Song For Kori manages to capture a kind of essence within the American zeitgeist. It's reassuring to know that indie music like this is still being made." 
"He is a gifted lyricist, and a beautiful example of what it means to make music with passion and focus, taking his audience on a musical journey. Highly recommended if you are a fan of artists such as Johnny Cash, Bob Dylan or Steve Earle, only to mention a few!"
"Blind Uncle Harry provides a one of a kind listening experience with each and every song and "Song For Kori" is a standout example; of the three tracks we have reviewed from this artist, this one is the most subdued and heart-wrenching."
"He echoes the folk-singers of old, way back when before everything had to be all slicked out with top-shelf studio production…when the natural sound of a guitar still held its true magic with the masses. By the time he hits this single's main conclusion, it lands with the resounding thump of the weight of its message, delivered by the most delicate means, but hard hitting all the same." 
RGM RATING (⭐️⭐️⭐️⭐️)
"The Indiana singer and songwriter with a penchant for the unconventional is back with his latest release "A Song For Kori" ...a searing indictment of American values, "where a man is worth more to his daughter/dead than alive," this track is a stripped-down direct depiction of the grand values of the USA accompanied by an acoustic guitar. A continuous theme for Blind Uncle Harry is to tell hard truths without sugarcoating" 
With several releases, Blind Uncle Harry was able to convince several times and rightly has a sworn fan base behind him. One of those highlights that complete his discography is the brilliant album The Gospel According To Blind Uncle Harry. But today it's about the story of Kori, who Blind Uncle Harry with nothing more than his high-pitched guitar arpeggio and his beguiling voice, which spreads brilliantly and angelically in the listening room. Blind Uncle Harry has once again proven himself to be a songwriting genius with this title, who can also convince vocally and more than lives up to his songwriting talent.
Dopesmokers of the World Unite and Take Over is a " folk-rock delight... [Harry] has an edge for using his music as a vehicle to create awareness. Blind Uncle Harry does it again!"
"Blind Uncle Harry certainly has a knack for storytelling which he showcases through his songwriting skills." 
"I really get a Violent Femmes vibe from this track, fused with a bit of modern folk music - this song is a treat and even a bit of a trip in itself. ...when listening to Blind Uncle Harry, expect to have a good time."
"One gets the sense this jam is a real hit at parties. The musical style is like if you were to blend 1880′s country with 1960′s folk, 1990s lofi and add contemporary social flair. Blind Uncle Harry's witty lyrics and mellow delivery are those of a true hippie out of time."
"Known for his hilbilly shreddin' folk rock sound, Blind Uncle Harry has an arsenal of tricks up his sleeve to keep his music unique and fresh. Utilizing a rotating arrangement of band members to compliment every song and make it shine in it's own, quirky way." 
"By the time 'Dopesmokers of the World Unite and Take Over' draws to a close, you'll find yourself humming along with the catchy hook and in need of hitting that repeat button for another listen." -WokeChimp.com
the "communal spirit feels absolutely awe-inspiring, [and] recalls a bit of David Peel & The Lower East Side's "Have a Marijuana". The same degree of joy from that 1968 album lives on with Harry's loopy take on folk rock."  -BeachSloth.com
"The famous Blind Uncle Harry never fails to wow the audience, and with his latest music video, he has just set the benchmark for creative artists out there in the industry. His versatile development, together with authentic lyricism, is the source of his immense popularity around the world." -African Hype
 Music Blog
"And of course, the music is suitably ragged and raucous coming off like a campfire busk or a cosmic jam after a night on the weed, and it is all the more glorious for it." -Dave Franklin, Dancing About Architecture
 Music Blog

CHRISTMAS DAY IN AUSTRALIA IS A HIT!
"Known for his inventive charm and daring folk-rock revelry, ...Blind Uncle Harry's creative charms seem to never end and just in time for holiday cheer, he makes another genius leap of melodic bliss with this Christmas release. Not only is Christmas Day In America an inventive effort, but for a wide majority of the population that has been locked away in 2020's pandemic, it is a way to travel across the world and finally let go of all that is useless."
Christmas Day in Australia "definitely shows off the chill, bluegrass, hippie-esque formula that [Harry] seems to be known for. This folksy untraditional Christmas song is the perfect heartfelt alternative to the customary holiday classics." The lyrics "are definitely unique, clever, and funny, while also political."  
"known for his biting wit and wise-guy wisdom" and as "a dynamic writer and performer. ...Harry has made a name for himself writing, recording and especially performing his unique brand of folky and funny social commentary." 
...Known for telling a great tale and usually a damn catchy one, Harry has pinned down a unique niche for himself. It's safe to say that you can never truly know what's coming next from Blind Uncle Harry, and that's part of the undeniable charm."  
"...a wonderful stream of consciousness, one that becomes nearly bursting with so much passion."  
"It reminds me of a wonky, rootsy past, one resurrected from weed, wisdom and wide-eyed wonder, one that combines the most infectious sing-alongs with some deep and meaningful…occasionally deep and meaningless…themes, a bit like the way that Monty Python would bang on about Schopenhauer and then the next moment be hitting each other with fish! It is a place where cosmic country cool is soaked in a hippie hullabaloo and above all, where music is made for all the right reasons." 
"Blind Uncle Harry is the kind of music experience that you are not going to come across every day. Through "Christmas Day in Australia", we get just one taste of the artistry and musicianship that Chris "Harry" Doran and his band have become known." -Which Coast Music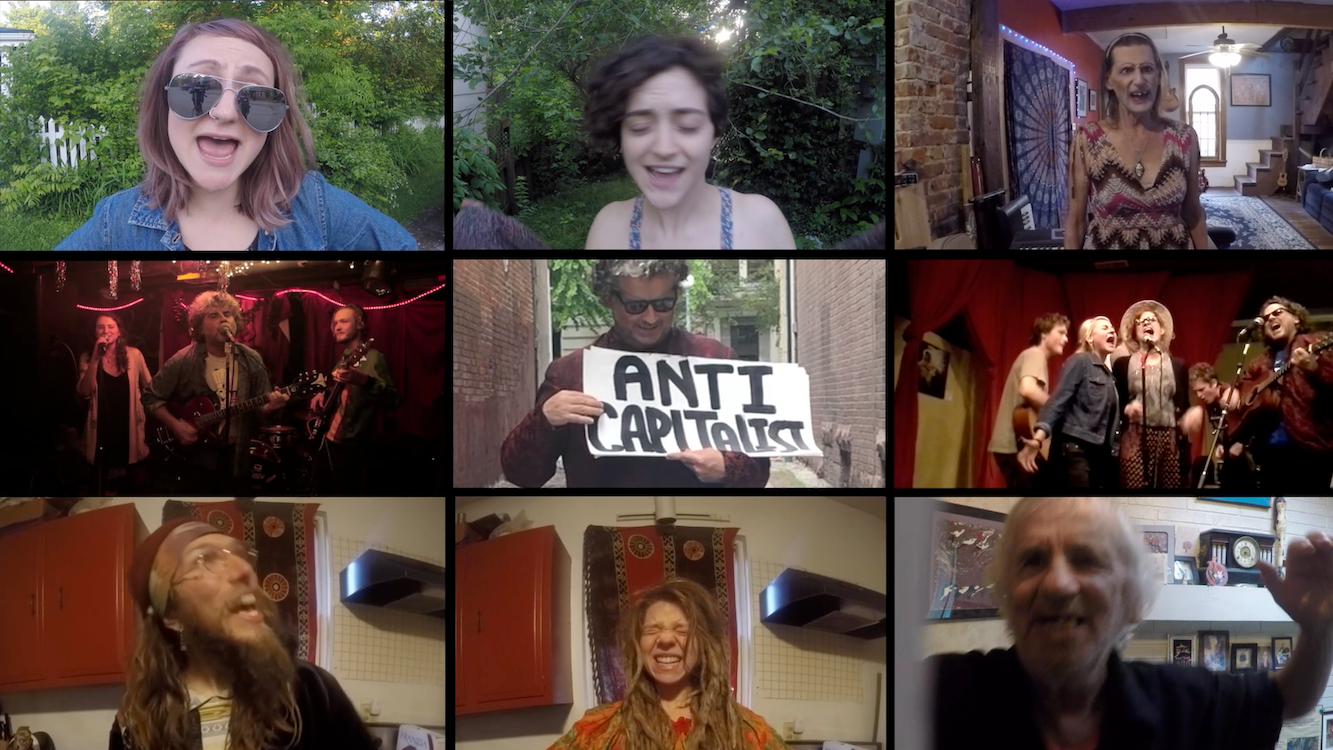 "Blind Uncle Harry unveils a crafty delight with Hillbilly Hippie Haiku Heaven that will keep you on the edge of your seats. The song's upbeat vibe, stirring live instrumentation, and real-to-life lyricism make for a fun and memorable experience."
"...lends itself easily to repeat listens, each time gleaming something new from the lyrics. It sounds like it would be incredibly fun in a live setting. Hillbilly Hippie Haiku Heaven is gives off the vibe of a pub song, perfect for drunken singalongs. For anybody who is looking to forget their worries, I would suggest listening to Hillbilly Hippie Haiku Heaven."
"This powerful attitude coupled with skilful songwriting and performing talent is without doubt what makes Blind Uncle Harry stand out to his fans. Known for their boisterous live performances, solos and crowd sing-along moments Blind Uncle Harry is without doubt an artist who entertains." 
               "Rustic vibes run through Blind Uncle Harry's joyous "Hillbilly Hippie Haiku Heaven". Going for something with true grit and soul, the way they let their energy pour out feels so satisfying. They simply burst forth with so much love that it becomes impossible to resist their charms. Instrumentally vibrant they incorporate so much color into the mix. Best of all though are those unfettered vocals that ring proud and true. Volume is a must for this is a piece that yearns to be felt."
"Infectious ...thought-provoking and unapologetic... Here's a great example of what it means to make music without boundaries or barriers."  -Bandcamp Diaries
"Are we not all gay, lesbian, pansexual, transgender, potsmoking, acid trippin…. Hippies?" -She Wolf (Germany)
"...rule breaking, hands waving, unapologetic blast of living life off the cuff." -Red Carpet Living Blog
  "Hillbilly Hippie Haiku Heaven is the ultimate affirmation of lgbtq identity and all things progressive... he's somehow expressed solidarity with every group maligned by mainstream conservatives while still being laugh out loud funny. If I could pick one track to be the theme song for the Revolution, this is it."

-Whittaker Evans
BIOGRAPHY

"Superb instrumentation, gorgeous harmonies, and some of the best lyrics we've heard this year, Blind Uncle Harry will make you laugh, cry, and piss you off- often in the same song." WIUX Radio Bloomington Indiana
"Blind uncle Harry is king of the sing along" Bloomington Herald Times
"Blind Uncle Harry is a musical antidote to these politically poisonous times." Frankie Farrell, WFHB Radio
Blind Uncle Harry is the stage name for Chris 'Harry' Doran a critically acclaimed singer songwriter based in Bloomington, Indiana. He took the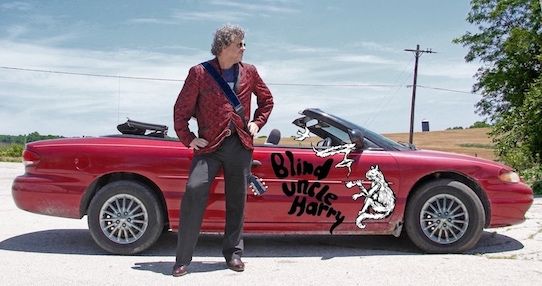 name Blind Uncle Harry from his actual great Uncle Harry, who was indeed blind. He was a fiddle player and sparked a life long appreciation of the power of one man and an instrument. 
Harry and his rotating band specialize in self defined hillbilly hippie shreddin' folk rock. Together they are particularly well known for their raucous live shows with audience sing alongs and extended solos. There is nothing quite like a Blind Uncle Harry performance with the audience singing and at times screaming along to "Jesus is Comin' in a Rat Turd", "Dopesmokers of the World Unite and Take Over", "Burn Down the High School" and Indiana. 
Notorious for being the only performer ever banned by the Indiana University Union Board for referring to the venue operator Starbucks as Starfucks and encouraging the audience to substitute singing "Burn Down the Kelley School of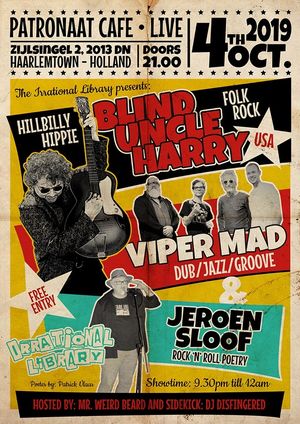 Business" for "Burn Down the High School", most reviewers use the words Americana, bluesy, funny, and occasionally, poet, in their reviews of Harry's music. He is most often compared to Billy Bragg (UK), Todd Snider (USA) and David Rovics (USA).
When playing with his band, they remind people of everyone from Arlo Guthrie jamming with Flatt & Scruggs/ Foggy Mountain Boys to Iggy Popp and the Stooges. Although, to our knowledge, none of those groups nearly caused an entire floor to collapse, as Blind Uncle Harry and his band did during a memorable performance at Bloomington's legendary 201 South Washington house show venue. So many people were jumping up and down to Rat Turd that the show below in the basement was momentarily stopped as the audience was sure the ceiling was about to cave in on top of them.
Harry's 2020 album The Gospel According to Blind Uncle Harry received rave reviews, has been played on over 120 stations across the United States, charted on the NACC Folk Chart, and placed a number of songs on stations' weekly Top 20 playlists. The album's single "Hillbilly Hippie Haiku was also lauded by critics, as was Harry's 2020 holiday single "Christmas Day in Australia". It too charted on the NACC Folk Chart.
The Gospel According to Blind Uncle Harry features superb bluegrass instrumentation, catchy vocal hooks and harmonies while expanding the radical wit and lyrical expression Harry is known for. Politically charged yet still irreverent, the album makes fun of pretty much everything mainstream American from the work ethic to all things conservative christian. Yet it still manages to be laugh out loud funny, especially Hillbilly Hippie Haiku Heaven, D Chord Hammer Ditty, Uh Oh (Sounds Like Somebody Pissed Off Jesus), Indiana, and It's All Fucked (Donald Trump is President).
For good reason Harry is known as the "king of the sing along", and the album does not disappoint, with live show sing along favorites Cry Me a Rainbow, Song for the Revolution, and Savannah Kentuckiana included. And of course it wouldn't be Blind Uncle Harry without a healthy dose of twisted love gone wrong songs Emma Lynn, Long Lonesome Tune, Strip Mining My Heart, Sunny Afternoon) that only he could come up with.
Blind Uncle Harry has performed solo throughout the United States, and completed his first European solo tour in 2019.
High Resolution Photos for Download: 
Blind_Uncle_Harry_LogoSquare.jpg
Blind_Uncle_Harry_LogoRound.png
PRAISE FOR THE GOSPEL ACCORDING TO BLIND UNCLE HARRY ALBUM
"I think that the point of us being here is so that we can unify all the broken and conflicting bits of the universe through song, to attract the opposites, to drum up the primal musical forces and make them dance together in one healing ritual. If this is the case... then The Gospel According to Blind Uncle Harry might just be a sort of cosmic hymn sheet. Or it might just be the strangest and most brilliant album to pass your way in a long time." 
4.1 out of 5 - TOP ALBUM
"The cocktail of emotions for one were incredible. It's an album that is tender, warm, earnest, heartfelt and so clever and funny. ...Take for instance "D Chord Hammer Ditty" which was just genius. On top of that the instrumentations and vocals are glorious.  ...There are so many other great songs that combine fantastic wordplay and creative music. ...As the album progresses the band just crushed."
"I rarely find music that can feel this emotional yet not overly heavy. The balancing act of humor along with the more familiar emotions you hear on records rarely sounds this good. Highly recommended." 
 "Featuring strong bluegrass instrumentation coupled with vocal hooks and harmonies that will embed themselves within your subconscious for hours after a listen, this album does not disappoint." 
"Addressing politically charged topics without reverence, the lyrical content of this album will assuredly appease the hardcore Blind Uncle Harry fans who revel in his poetic rebellion against mainstream expectation." 
"He makes fun of pretty much everything mainstream American -- from the work ethic to all things conservative christian. Some call Blind Uncle Harry the "king of the sing along," and the album has plenty of opportunities for you to sing til your quarantined neighbors bang at your door"
"At a time when even the COVID-19 pandemic is being politicized, the album's sexy bluegrass instrumentation, catchy vocals and sweet harmonies provide some musical mental relief to our nation's chaos." 
"My favorite track on the album is Hillbilly Hippie Haiku Heaven. The song plays on the strings of classic Americana music, with the finesse of folk, country, blues, and rock."
 A warm communal spirit runs through Blind Uncle Harry's strangely inspirational "The Gospel According to Blind Uncle Harry". The ancient rhythms and sounds of the album feel so welcoming as if they had always existed.
"Long Lonesome Tune" sets the tone for the album featuring a blissful jaunty tempo. Going for a childlike sense of wonder is "Cry Me A Rainbow" whose inclusion of so much color feels profound. On "Song For The Revolution" they offer a different view of the sadness that consumer culture inevitably brings people.
The delightful ramshackle of "Savannah Kentuckiana" explores the happiness that comes from truly embracing rural America. Incredible strings dominate the lovely "Strip Mining My Heart". Quiet with a bit of reflection is "Sunny Afternoon". Bringing things to a fantastic conclusion is the weirdness of the ode "It's All Fucked". 
"This latest single [Song for Kori] comes off the back of his astonishing album 'The Gospel according To Blind Uncle Harry' from last year. One of my favourite soundtracks right now, this album consists of twelve tracks that ooze a sweet, soulful sound, all whilst making me ponder the nature of our constructed lives. Blind Uncle Harry had me singing along with glee whilst contemplating the structures that surround me. For me, that is a match made in heaven."
"blurs the lines between blues, Americana, gospel, and folk, going for a diverse approach. The beautiful opening track, "Long Lonesome Tune" is actually a great example of what I am talking about. In addition to that, "Sunny Afternoon" is perhaps one of my favorite tracks on the album, due to its care-free arrangement and personal vocals. This track has a 70s vibe, but it also reminds me of some 60s alt-folk music, such as earlier Bob Dylan. 
Savannah Kentuckiana "is a 'hoe-down Camper Van Beethoven.' I love the redneck guitar solo."