BIOGRAPHY
"undoubtedly one of the best songwriters in the current indie market." …a songwriting genius" EXCESS MAGAZINE
"There are many artists that can be defined as unique and engaging, but no one can steal the listener's attention like Blind Uncle Harry. Gifted with incredible songwriting skills, this excellent musician and recording artist stands out thanks to his brilliant compositions, witty sense of humor, and lyrics that carry a strong message." -PLANET SINGER MAGAZINE  
"Blind Uncle Harry is as real as it gets and a whole lot more people need to hear these songs.  Think music can't change the world? Think again." -INDIE BAND GURU 
"Blind Uncle Harry has the most astounding ability to pen songs that'll have you moving and shaking while questioning the structures that surround you." -SKOPE MAGAZINE 
Blind Uncle Harry is the stage name for Chris 'Harry' Doran a critically acclaimed singer songwriter, NACC National Folk Radio charting independent recording artist based in Bloomington, Indiana. He took the name Blind Uncle Harry from his actual great Uncle Harry, who was indeed blind. His great uncle Harry was a fiddle player and sparked a life long appreciation of the power of one man and an instrument. Harry and his rotating band specialize in self defined hillbilly hippie shreddin' folk rock. Together they are particularly well known for their raucous live shows with audience sing alongs and extended solos.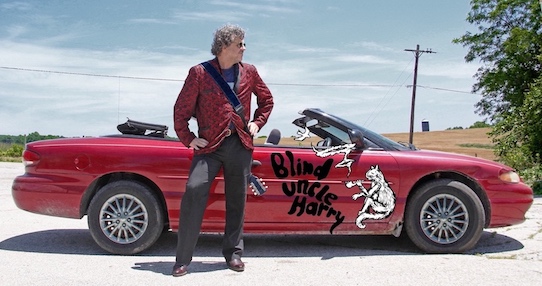 Blind Uncle Harry has released two albums: Visualize Industrial Collapse (2022), and The Gospel According to Blind Uncle Harry (2020). Visualize Industrial Collapse  was lauded by Excess Magazine as "10 out of 10" and "here is a master at work", and by Indie Band Guru as an album that "just might blow you away" and "Think music can't change the world? Think again." Visualize Indusstrial Collapse's official release was proceeded by six singles and videos (to watch the video with links to full reviews, click on the song title): 
Christmas Day in Australia (Nov 2021), is "set to go down as a classic" according to Camden Monthly, while Warlock Asylum describes it as "a genius leap of melodic bliss." It also charted on the NACC Radio Folk Chart. Dopesmokers of the World United and Take Over (Feb 2021): Just Fame says "This is One of the funniest and unique songs that we have ever come across", while StepKid.com hails it as "an indie folk rock anthem." Song For Kori (May 2021): Canada's Sleeping Bag Studios writes "He echoes the folk-singers of old, way back when before everything had to be all slicked out with top-shelf studio production…when the natural sound of a guitar still held its true magic with the masses."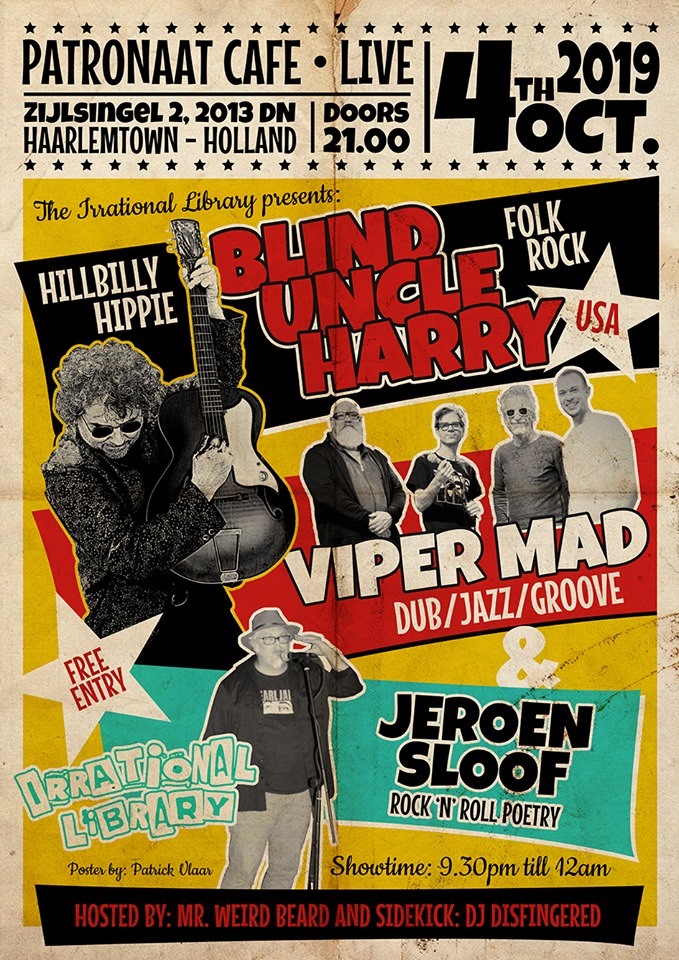 American Way (Oct 2021) is "one of those songs you fall in love with just after the first play" (Planet Singer Magazine) and "captures the sound and feel of Americana- The Bandcamp Diaries. I Just Want You To Know (March 2022):  "is the right message for a failing America." (Warlock Asylum), "a sensational, folk-infused single" (Skope Magazine), and "compelling, bluntly tackling certain norms and aspects of society that many people perceive as true American values; however, Harry shines a light on their detriment and eschews them" (Streamline Music). 
Burn Down The High School (Aug 2022) is, according to Excess Magazine, "a masterpiece ...10/ 10: fantastic work from the king of folk (rock)", while Skope Magazine says "If you're looking for something fresh and polar opposite of mainstream, then look no further! Harry will blow away your senses and make your ears spin with his latest release." 
The Gospel According to Blind Uncle Harry features superb bluegrass instrumentation, catchy vocal hooks and harmonies while expanding the radical wit and lyrical expression Harry is known for. Politically charged yet still irreverent, the album makes fun of pretty much everything mainstream American from the work ethic to all things conservative christian.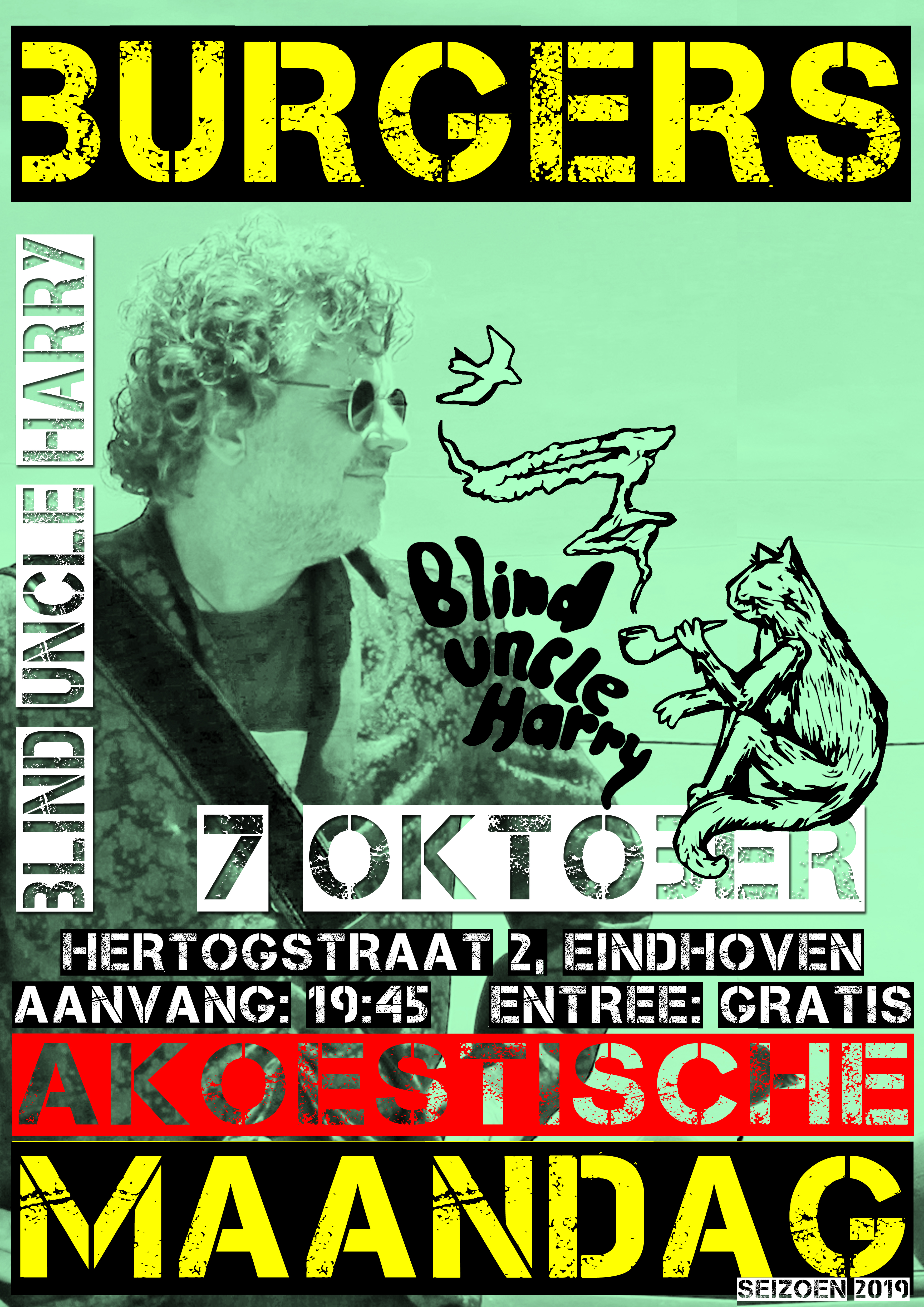 The Gospel According to Blind Uncle Harry also received rave reviews. It "might Just be the strangest and most brilliant album to pass your way in a long time" writes Dave Franklin, Dancing About Architecture Music Blog. Woke Chimp says "Fans of upbeat bluegrass country music with a twist of anti-establishment, politically charged humour will love Blind Uncle Harry's new album!" 
The Gospel According to Blind Uncle Harry has been played on over 120 stations across the United States, charted on the NACC Folk Radio Chart, and placed a number of songs on stations' weekly Top 20 playlists. Click here to play either album for free and to access full reviews.
Notorious for being the only performer ever banned by the Indiana University Union Board for referring to the venue operator Starbucks as Starfucks and for encouraging the audience to substitute singing "Burn Down the Kelley School of Business" for "Burn Down the High School". He is most often compared to Todd Snider (USA), Billy Bragg (UK), and Bob Dylan (USA).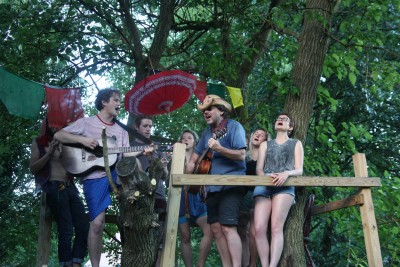 When playing with his band, they remind people of everyone from Arlo Guthrie jamming with Flatt & Scruggs and the Foggy Mountain Boys to Iggy Popp and the Stooges. Although, to our knowledge, none of those groups nearly caused an entire floor to collapse, as Blind Uncle Harry and his band did during a memorable performance at Bloomington's legendary 201 South Washington house show venue. So many people were jumping up and down to Jesus Is Coming' In A Rat Turd that the show below in the basement was momentarily stopped as the audience was sure the ceiling was about to cave in on top of them.
Blind Uncle Harry has performed solo throughout the United States, Europe, and Auatralia.
"Superb instrumentation, gorgeous harmonies, and some of the best lyrics we've heard this year, Blind Uncle Harry will make you laugh, cry, and piss you off- often in the same song." WIUX Radio Bloomington Indiana