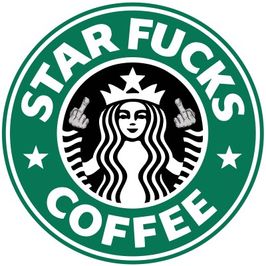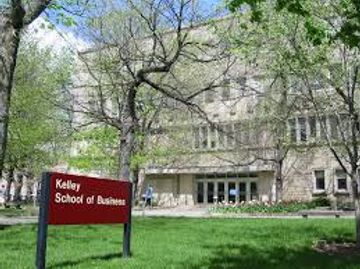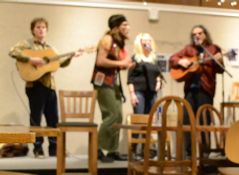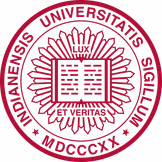 Blind Uncle Harry is, to the best of our knowledge, the first group to ever have been banned by the Indiana University Union Board from ever performing again. The Union Board is a student organization that facilitates concerts movies etc on campus. We performed a show at Starbuck's in the Union building on January 28 as part of the Union Board's 'Live from Bloomington' series. It's a tough gig; audience is primarily disinterested students chatting or studying, and it's a little hard to get their attention. Plus it's Starfuck's for fuck's sake. So I opened by saying, 'you know what they say, friends don't let friends drink at Starbuck's. Or, as most people refer to it, Starfuck's.' I also encouraged people to get their caffeine fix at the decidedly anti-corporate SOMA cafe down the street. This apparently was my first mistake.
     My second, according to the official letter from the Union Board below, was to suggest that if people were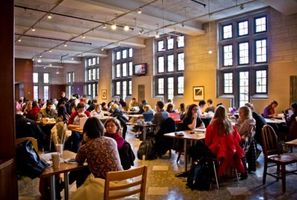 uncomfortable singing along to 'Burn Down the High School', they could substitute 'Burn down the Kelley School of Business' instead. Come to think of it, the Union Board crew didn't exactly seem thrilled by Halvzies, sung by Shelby Jo, which is hard to understand cuz what could be more appropriate for college students studying at Starfucks than a song about scoring weed? And to just to make sure we were on message we also did Dopesmokers of the World Unite and Take Over. They also didn't seem to warm to our feral friend Joe Savarino joining us on stage in all his glorious hippyness, which included a powerful  aroma that probably carried a fair ways.  
     Here's the letter from the Union Board banning us for expressing our distate for Starfuck's and the Kelley School of Business, and my reply banning them from having any future association with Blind Uncle Harry:
     Dear Blind Uncle Harry,
    I am writing you due to some concerns about your Live From Bloomington Presents performance on Wednesday January 28, 2015.  Some of the content that was said during your performance did not align with UnionBoard's values and was offensive.  While we respect your artistic freedom of expression, we will be unable to host you again in the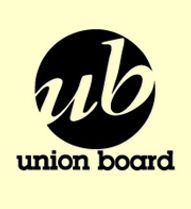 future as we represent the University and many of the items which you expressed a great distaste for, such as Starbucks and the IU Kelley School of Business.  Thank you for your understanding and we wish you all the best.  Please do not hesitate to contact me if you would like to discuss the matter further.
Respectfully,

Astrid Mejia
Director of Local Music
"Live From Bloomington"
Astrid, 
     That's funny, we don't recall agreeing to perform to any set of Union Board values. It's a sad pathetic day when making fun of Starbucks and the Kelley School means getting banned from playing. Wow- way to stand up for artistic freedom of expression. Thank god poor defenseless Starbuck's and the Kelley School have you and the Union Board to protect them. Frankly I find it chilling how cavalier you are in practicing censorship. I don't know which is more disturbing- the censorship itself, or your expressed feeling that we should be understanding and accepting of it.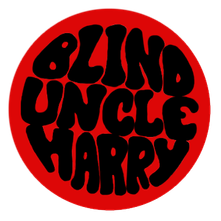 So you and the Union Board are now officially banned from any association with Blind Uncle Harry. We find your support for Starbuck's and the Kelley School to be offensive. We also find it poisonous to the open debate and artistic expression which is the heart of a public university. And we will never associate with an organization that practices such blatant censorship, except to mock and highlight your support for corporate America and the 1%. 


Thank you for your understanding, 


Blind Uncle Harry



PS: In case you didn't catch the lyrics during our performance, these are for you:
There are millions and millions thinking this is so great
That we all live in a military state
Mindless consumption and endless competition
You pay a high price for being born American
--'I Just Want You to Know', Blind Uncle Harry