To quote another Blind Uncle Harry song (Hillbilly Hippy Haiku Heaven), if you are a 'gay lesbian bisexual transgender pot smokin' acid trippin' tree huggin' illegal immigrant,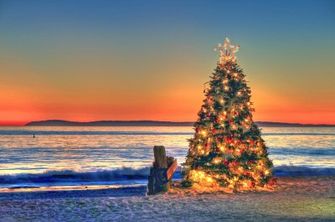 lazy black welfare mother job avoiding anarchist anti capitalist lazy hippie hillbilly', you will probably love this album. But, to paraphrase Todd Snider, if you are a conservative christian right wing republican, well, probably not so much. 
    Most of Visualize Industrial Collapse was recorded live at Bloomington's Tecumseh House, and you can feel and hear the vibe resonating from the 127 year old heart pine floorboards. It was mixed and mastered at Echo Park, Bloomington's fabled studio where The Fray, John Mellencamp, Ben Folds, Stephen Stills, Over the Rhine, and lots of others have recorded. So, it sounds really good. 
     1.Christmas Day in Australia is the first single. My favorite story about this song is hearing it on WIUX, the Indiana University college radio station, during an IU basketball broadcast. So thousands of IU fans were treated to hearing the lines 'And the rich fucks look down from their balconies/ From their ugly high rises where the poor once lived/ You'd think they'd have something to contribute/ But they've got nothing to give'.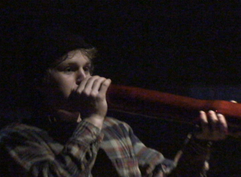 The first thing that grabs you right off the bat is the didjeridoo opening. I mean, how many songs let alone albums open with a didjeridoo solo? It's part of the whole 'Visualize Industrial Collapse' message that goes throughout the album. The dobro then kicks on over the acoustic guitars makes it part country while still being within the genre of a pop song. Shelby Jo the Blonde Diva Everett's back up vocal melds perfectly with Chris D's (aka Blind Uncle Harry) lead vocal, and you can practically smell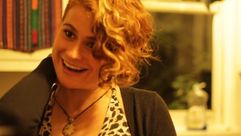 the beach while relating to the heartbreak deep in your gut. And then at the end, Alex Burgan's sultry duet for the last few lines is one of my favorite moments on the album. Hubba bubba- you really want to be sweating on the beach with her.
    2.And anyone who ever seen them play live knows Dopesmokers of the World Unite and Take Over. As another review put it, really does make you want to clap and sing along. Especially if you're stoned. A stoner's anthem, but with a subtle political message- if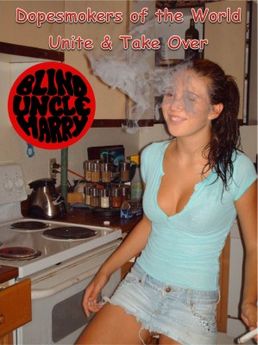 everyone smoked weed, there would be no more wars, no more Wall Street, and life would be one big giggle fest. Well, maybe, but listening to the song is a giggle fest. Recorded live with banjo, dobro, two guitars, djembe and the first appearance of Sweetness- the almost two hundred year old violin that belonged to Chris D's great Uncle Harry, who was blind, hence the name.
    3.American Way hooks you right away with Nick Wildcard Harley's 2nd guitar, which almost but not quite overshadows the lyrics. I say almost, because with lines like 'Well, they tell ya, yeah they tell ya, that you gotta work hard/ They tell ya, yeah they tell ya, to believe in their god/ They tell ya, yeah they tell ya, not to have no regard/ Rip it up, exploit it, and you'll get a reward.' there's no way the lyrics are gonna take a backseat to any instrumentation. Two guitars, bass, and vocals. Simple but it still rocks.
     4.With I Just Want You to Know, Sweetness takes center place. Dietrich Van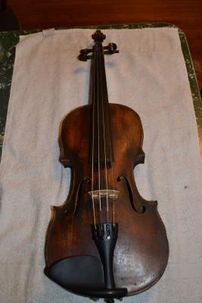 Wassaner's playing is sublime, like an old time fiddle transformed into a modern pop song. But it's the 2nd vocal of Shelby Jo the Blonde Diva that gives me chills every time I hear it- whether this album version, or the number of times I've heard her live. Coming out of the lines 'There are millions and millions thinking this is so great/ That we all live in a military state/ Mindless consumption and endless competition/ You pay a high price for being born American', Austin Boom Boom Davis's guitar solo jolts you out of whatever folk complacency you might have been drifting along with. Chris D has often said if there's only one song that gets played at his funeral, this is it.
     5.And now it's time to rock out. Like Dopesmokers, it's hard to separate Burn Down the High School from seeing them perform this live. If you enjoyed high school, then you might find it hard to relate to the sheer glee conveyed here of seeing it burned down to the ground. But it's still fun- the doo wops! take the edge off the arson, and Boom Boom's electric guitar gives it that hard edge without taking away its sing along-ness. And Alex Burgan's demented scat solo on top of the oo la la's is classic. And just in case you didn't get it yet, this is a political album- 'There will be no government class today/ No more lessons 'bout how great is the U-S-of-A/ There will be no brains washed away/ There will be no jocks out in the hallway/ Cuz they burned it down..."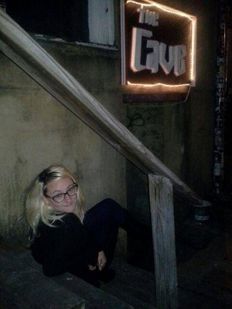 6.Oh god. I dare you to find a better performance than Shelby Jo's vocal on Fly Away. It makes me cry just to think about it, it's so beautiful. The quaver in her voice 'Darlin' stay with me/ I can't face the day/ Please hold me/ And fly, fly, fly away'. If not for her vocal, Dietrich's exquisite playing of Sweetness would be the most memorable aspect of the song; together they make it sing.
     7.Song for Kori. Just Chris D/ Blind Uncle Harry on acoustic guitar. If Fly Away is what you play at 3 o'clock in the morning alone after drinking half a bottle of tequila, Song for Kori is what you play when you want to engage with how incredibly fucked up this country is for so many of its citizens. Fly Away is existential, Song for Kori is personal. I don't want to ruin the punch line, so to speak, although punch line probably isn't the best word since there's no humor in this song at all. I've seen people cry when Chris plays it solo; it often seems its hard for him to get through it without crying.
     8.Aw, the glory of Rat Turd. Whatever low you've gone down to after Fly Away and Song for Kori, Rat Turd lifts you back up. As good as this version is- it was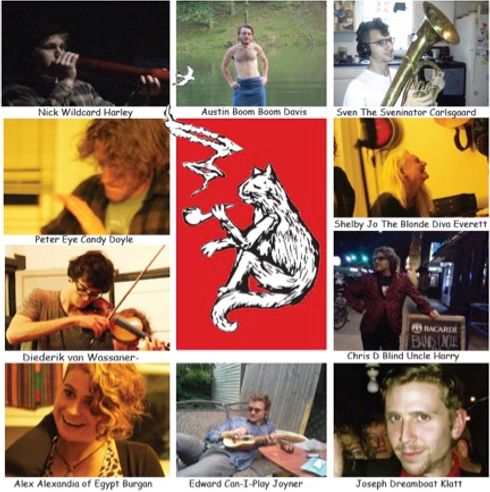 recorded live at Bloomington's Back Door- there is nothing like seeing them play this live. It's kinda hard to explain the appeal of Rat Turd to the uninitiated. At Bloomington house shows, people start calling out for it throughout the set. Which is cool, except that when it's really cookin' it goes for 20 or 25 minutes, and they don't have time for other songs.
     9.I Don't Cry at Funerals: I love the little guitar riff in Dminor that ends each line, followed by Sven (Sveninator) Carlsgaard's trumpet and baritone licks. And of course the acoustic guitar solo midway through which is completely unexpected. But the most interesting thing is that it's written and sung from a female perspective- 'It's what I know how to do/ I'm some kind of wonder woman/ And I always make it through'. 
     10.Elegy in B Minor: A hidden gem. I don't know why he put this so close the end, but it's worth the wait. The combination of Pete Eye Candy Doyle's 1980's style big hair electric guitar solos, Boom Boom's djembe, and the mandolin on top of a simple arpeggio riff in B Minor rocks the shit out of this.
     11.If I Should Have to Go: A lovely duet between Chris D and Shelby Jo, but it's Shelby Jo's vocal that you will remember. The message is that hey, the world might be fucked, but that doesn't mean we have to be mean to each other. We have a choice to love. Life is hard, but living it honestly is harder, but it's worth it- 'If I'm gone, you can still be with me/ As long as you stay wild and free'. And the album ends with the lines 'If I should have to go/ baby you need to know/ oh darlin' I love you so', with Shelby Jo's vocal soaring up to the heavens on that last note.