"I think that the point of us being here is so that we can unify all the broken and conflicting bits of the universe through song, to attract the opposites, to drum up the primal musical forces and make them dance together in one healing ritual. If this is the case... then The Gospel According to Blind Uncle Harry might just be a sort of cosmic hymn sheet. Or it might just be the strangest and most brilliant album to pass your way in a long time." -Dave Franklin, Dancing About Architecture Music Blog
"Fans of upbeat bluegrass country music with a twist of anti-establishment, politically charged humour will love Blind Uncle Harry's new album!"  -Woke Chimp
"Harry's wittiness is a joy."  Urbfash
"Addressing politically charged topics without reverence, the lyrical content of this album will assuredly appease the hardcore Blind Uncle Harry fans who revel in his poetic rebellion against mainstream expectation." -Woke Chimp Music Blog
"a delightful trip" -Beach Sloth
"At a time when even the COVID-19 pandemic is being politicized, the album's sexy bluegrass instrumentation, catchy vocals and sweet harmonies provide some musical mental relief to our nation's chaos." Urbfash
"Featuring strong bluegrass instrumentation coupled with vocal hooks and harmonies that will embed themselves within your subconscious for hours after a listen, this album does not disappoint." -Woke Chimp
"blurs the lines between blues, Americana, gospel, and folk" -Bandcamp Diaries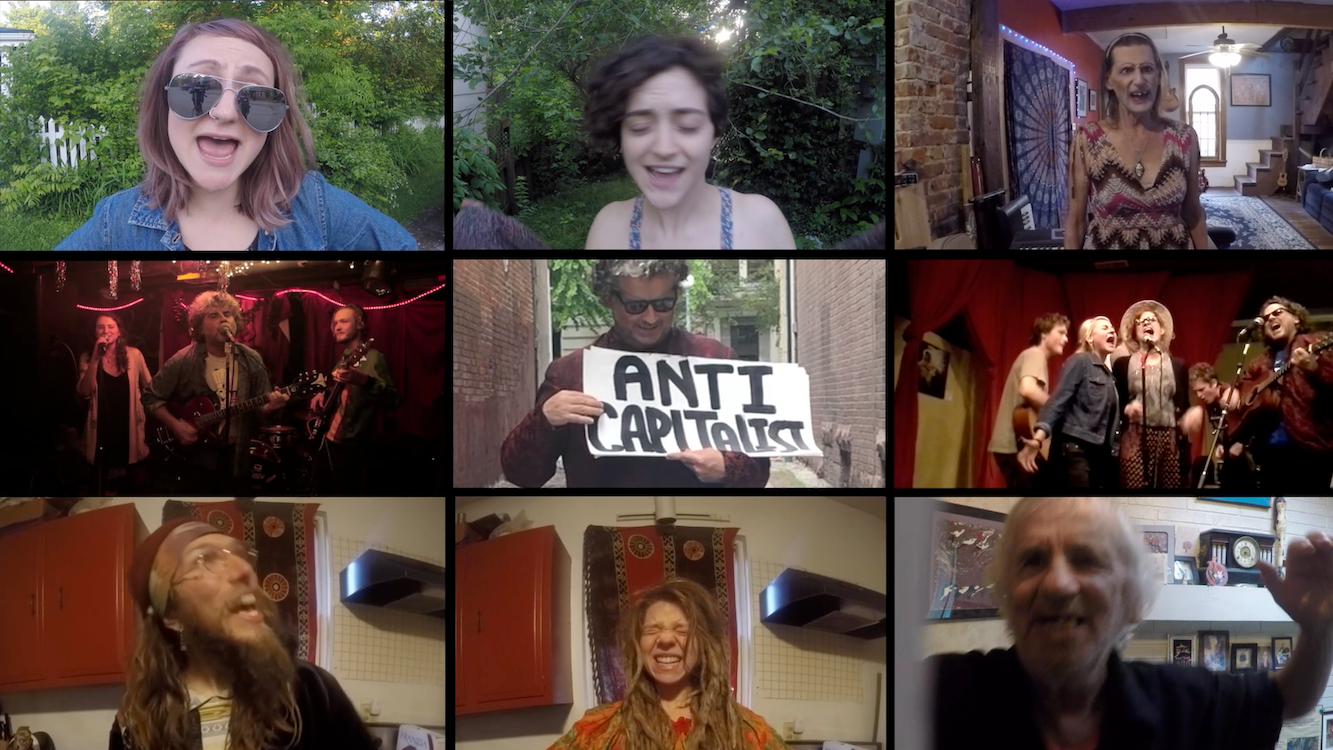 "...the electrifying singer and songwriter Chris 'Harry' Doran aka Blind Uncle Harry has a new single titled that will leave you in awe! Hillbilly Hippie Haiku Heaven is a winner!"  -Warlock Asylum
"Infectious ...thought-provoking and unapologetic... Here's a great example of what it means to make music without boundaries or barriers."  -Bandcamp Diaries
"Are we not all gay, lesbian, pansexual, transgender, potsmoking, acid trippin…. Hippies?" -She Wolf (Germany)

"...fun, upbeat, and hilarious. For anybody who is looking to forget their worries, I would suggest listening to Hillbilly Hippie Haiku Heaven." -Skope Magazine
  "Hillbilly Hippie Haiku Heaven is the ultimate affirmation of lgbtq identity and all things progressive... he's somehow expressed solidarity with every group maligned by mainstream conservatives while still being laugh out loud funny. If I could pick one track to be the theme song for the Revolution, this is it." -Whittaker Evans
"In a world of political correctness it is refreshing to have an artist unashamedly embrace their authentic and honest ideology without fear of a negative backlash." Woke Chimp
"...rule breaking, hands waving, unapologetic blast of living life off the cuff." -Red Carpet Living Blog
"hypnotic" "glorious fingerpicking guitar work." ..."They simply burst forth with so much love that it becomes impossible to resist their charms. Every moment goes right for the heart of the moment as it soars up into the sky." -Beach Sloth
BIOGRAPHY

"Superb instrumentation, gorgeous harmonies, and some of the best lyrics we've heard this year, Blind Uncle Harry will make you laugh, cry, and piss you off- often in the same song." WIUX Radio Bloomington Indiana
"Blind uncle Harry is king of the sing along" Bloomington Herald Times
"Blind Uncle Harry is a musical antidote to these politically poisonous times." Frankie Farrell, WFHB Radio
Blind Uncle Harry is the stage name for Chris 'Harry' Doran a critically acclaimed singer songwriter based in Bloomington, Indiana. He took the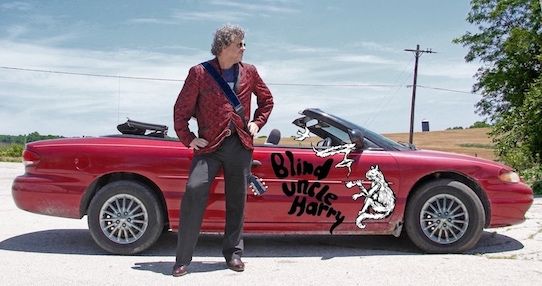 name Blind Uncle Harry from his actual great Uncle Harry, who was indeed blind. He was a fiddle player and sparked a life long appreciation of the power of one man and an instrument. 
Harry and his rotating band specialize in self defined hillbilly hippie shreddin' folk rock. Together they are particularly well known for their raucous live shows with audience sing alongs and extended solos. There is nothing quite like a Blind Uncle Harry performance with the audience singing and at times screaming along to "Jesus is Comin' in a Rat Turd", "Dopesmokers of the World Unite and Take Over", "Burn Down the High School" and Indiana. 
Notorious for being the only performer ever banned by the Indiana University Union Board for referring to the venue operator Starbucks as Starfucks and encouraging the audience to substitute singing "Burn Down the Kelley School of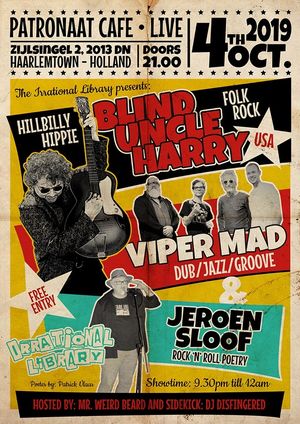 Business" for "Burn Down the High School", most reviewers use the words Americana, bluesy, funny, and occasionally, poet, in their reviews of Harry's music. He is most often compared to Billy Bragg (UK), Todd Snider (USA) and David Rovics (USA).
When playing with his band, they remind people of everyone from Arlo Guthrie jamming with Flatt & Scruggs/ Foggy Mountain Boys to Iggy Popp and the Stooges. Although, to our knowledge, none of those groups nearly caused an entire floor to collapse, as Blind Uncle Harry and his band did during a memorable performance at Bloomington's legendary 201 South Washington house show venue. So many people were jumping up and down to Rat Turd that the show below in the basement was momentarily stopped as the audience was sure the ceiling was about to cave in on top of them.
Harry's 2020 album The Gospel According to Blind Uncle Harry received rave reviews, has been played on over 120 stations across the United States, charted on the NACC Folk Chart, and placed a number of songs on stations' weekly Top 20 playlists. The album's single "Hillbilly Hippie Haiku was also lauded by critics, as was Harry's 2020 holiday single "Christmas Day in Australia". It too charted on the NACC Folk Chart.
The Gospel According to Blind Uncle Harry features superb bluegrass instrumentation, catchy vocal hooks and harmonies while expanding the radical wit and lyrical expression Harry is known for. Politically charged yet still irreverent, the album makes fun of pretty much everything mainstream American from the work ethic to all things conservative christian. Yet it still manages to be laugh out loud funny, especially Hillbilly Hippie Haiku Heaven, D Chord Hammer Ditty, Uh Oh (Sounds Like Somebody Pissed Off Jesus), Indiana, and It's All Fucked (Donald Trump is President).
For good reason Harry is known as the "king of the sing along", and the album does not disappoint, with live show sing along favorites Cry Me a Rainbow, Song for the Revolution, and Savannah Kentuckiana included. And of course it wouldn't be Blind Uncle Harry without a healthy dose of twisted love gone wrong songs Emma Lynn, Long Lonesome Tune, Strip Mining My Heart, Sunny Afternoon) that only he could come up with.
Blind Uncle Harry has performed solo throughout the United States, and completed his first European solo tour in 2019.
High Resolution Photos for Download: 
Blind_Uncle_Harry_LogoSquare.jpg
Blind_Uncle_Harry_LogoRound.png
CHRISTMAS DAY IN AUSTRALIA IS A HIT!
"Christmas Day in Australia is set to go down as a classic."         -Camden Monthly 
 "Known for his inventive charm and daring folk-rock revelry, ...Blind Uncle Harry's creative charms seem to never end and just in time for holiday cheer, he makes another genius leap of melodic bliss with this Christmas release." -Warlock Asylum
 "A heartfelt piece of outsider pop ...vital and vibrant." "...a wonderful stream of consciousness, one that becomes nearly bursting with so much passion." -Beach Sloth 
Christmas Day in Australia "definitely shows off the chill, bluegrass, hippie-esque formula that [Harry] seems to be known for. This folksy untraditional Christmas song is the perfect heartfelt alternative to the customary holiday classics." The lyrics "are definitely unique, clever, and funny, while also political." -Shari Hirsch, Ratings Game Music
 ...reminds "us that even those who are reaching for the stars can still find themselves in the gutter, to totally mis-quote Oscar Wilde, that even when trying to fathom out the mysteries of the universe, a simple thing such as love can still be baffling." -Dave Franklin, Dancing About Architecture blog 
"Blind Uncle Harry taps into that wild sensation with his version of a holiday hit, Christmas Day In Australia. ...Known for telling a great tale and usually a damn catchy one, Harry has pinned down a unique niche for himself. It's safe to say that you can never truly know what's coming next from Blind Uncle Harry, and that's part of the undeniable charm." -Sam Reed, Indie Band Guru 
 "Blind Uncle Harry is the kind of music experience that you are not going to come across every day. Through "Christmas Day in Australia", we get just one taste of the artistry and musicianship that Chris "Harry" Doran and his band have become known." -Which Coast Music 
  Blind Uncle Harry "writes singalong protest comedy songs which somehow manage to be all three of those things at once." [He] "is known for his biting wit and wise-guy wisdom" and as "a dynamic writer and performer. ...Harry has made a name for himself writing, recording and especially performing his unique brand of folky and funny social commentary." Static Dive's Bob Smith 
"Harry's compositional and musical skills are once again perfectly staged here. ...captivates with musical skill and melodic harmony." -Philipp Gottfried, She-Wolf Music Blog (Germany)